Anchors for the Soul by John Mark Hicks
Get the video course free, when you buy the book.
New Canaan Society and their friends get this rich video course free (1-year access, video streaming).
How it works:
Step 1: Add Anchors for the Soul to your cart here (either hardback or eBook format).
Step 2: Use coupon NCSPODCAST at checkout (see what this looks like here) and you will see the video course added to your cart.
*If you wish to own the DVD, you can do this by adding the DVD to your cart at the regular price here.
Step 3: Proceed to checkout!
Once you complete your checkout process, you will receive instructions on how to view the course videos through online video-streaming (1-year access).
If you're taking a group through this course, please fill out the form below to keep us in the loop so we can offer support.
More About This Offer to New Canaan Society Friends
We all experience loss, grief, and suffering to one degree in life.
In order to walk together through those challenges, John Mark Hicks and HIM Publications offer you a way to journey together as you process—or prepare for—suffering.
This is a way to bring men together online.
When you buy the book, you get the online course free (1-year access).
You can take a group through this in 6–10 weeks.
The video course is ten 10–12 min videos of the author (available by video streaming; the DVD is available here).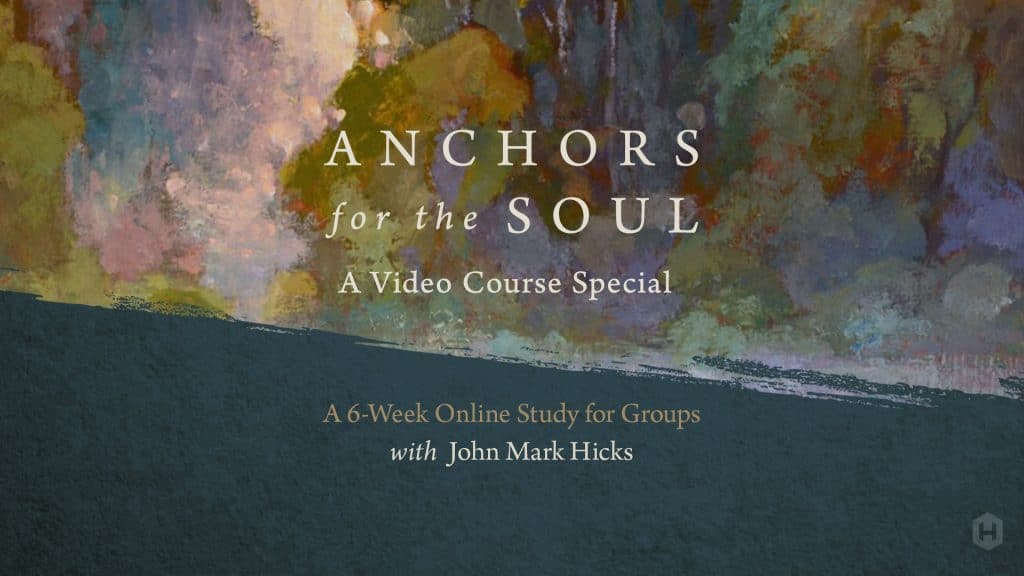 More About Anchors for the Soul Video Course
10 Short Videos to Guide Your Group's Discussion
One video for every chapter of Anchors for the Soul:
Introduction—(4:19)
1. My Story—(12:37)
2. God Loves—(11:57)
3. God Listens—(10:52)
4. God Understands—(13:13)
5. God Reigns—(11:51)
6. God Wins—(9:45)
7. The Course of Silence—(9:39)
8. A Time to Speak—(9:52)
9. Conclusion—(5:44)
A Video Course for Groups and Individuals
Go Deeper into the Content of the Book
Listen to Heart-Felt Stories from the Author
Spark Discussions with Your Group
About the Teacher
JOHN MARK HICKS has taught at institutions affiliated with Churches of Christ since 1982, including Harding School of Theology from 1991 to 2000 and Lipscomb University from 2000 to the present, where he is currently a professor of Theology. He has authored or co-authored more than a dozen books and contributed articles to several books and periodicals, both academic and popular. He lives in Nashville, Tennessee, with his wife, Jennifer, and together they share five living children and two deceased. They also have six grandchildren.