In October 2018, Dave Clayton, the lead pastor of Ethos Church in Nashville, Tennessee, approached HIM Publications about a book he had written on fasting and prayer. It was a simple tool he had used recently to equip his church. Now, he wanted to equip other churches with it, too.
The subject line of his email read, "Fasting eBook." He wanted help getting to print what was simply a PDF at the time. Within a matter of months that PDF became the HIM Publications book Revival Starts Here: A Short Conversation on Prayer, Fasting, and Revival for Beginners Like Me, which now has over 70,000 copies in circulation. This resource has helped tens of thousands of Christians learn to fast and pray—many for the first time.
How did all of this come into fruition?
Many Christians long for change and awakening—for revival—but they lack the necessary tools to reach what they long for. Especially tools designed for just that purpose: to help their entire church learn to embrace a new practice. That's why Revival Starts Here is so useful. It meets several important needs for churches:
It's short.
It's biblically based.
It's practical.
It's unique.
It's easy to read.
It offers a succinct introduction to prayer and fasting for revival.
Most importantly, though:
---
It unifies churches together from various denominations, affiliations, and backgrounds
---
The churches in Nashville needed a short, practical, and inspirational book like Revival Starts Here to have a common vision for what to do about their desire for revival. As individuals, we often don't know what to do on a practical level, let alone what to do on a church-wide, even city-wide scale. Then, introduce an uncommon spiritual discipline for many American Christians, like fasting, and you've got the perfect reason for a resource like this.
Dave's book was first written for his home church, then it was edited to work for any church in any location. That's why it's such a powerful tool: it was written by a pastor for his church. So many church leaders have found it to be directly applicable to fill the same need that it originally filled for the church Dave planted and leads, Ethos Church.
Why Ethos Church Needed This Book
Starting January 2017, Ethos Church has coordinated an extended church-wide prayer and fasting initiative. While they fast and pray for a month every year now, at the time, many people in their church had never fasted and prayed at all, let alone for a month at a time. The first draft of the book was written as a guide for his church to pray and fast together. But those drafts were not intended for a broader audience. So, when Dave approached HIM Publications to get this book to print, he simply wanted to take what had worked well for his church and package it for other churches—in Nashville and beyond.
So, HIM Publications released Revival Starts Here to the public in early 2019 so churches across the country, even around the world, could use it to equip their churches.
How Awaken Nashville Used Revival Starts Here
Awaken Nashville is the nonprofit Dave Clayton founded and leads that energized the prayer and fasting movement in Nashville, starting January 2019. They didn't market or advertise the movement; they simply gave an opportunity for other churches to join Ethos Church in prayer and fasting for revival.
As they prepared for the first year of a city-wide fast, they thought that a huge success would mean forty churches joined them. To their surprise, over 400 churches joined together in prayer and fasting for the people of Nashville. From late January through February, 2019, for an entire month, these churches became unified with a common vision.
Now, I want to be clear that people fasted in different ways, not just from food and not for the entire time. Dave outlines the four major types of fasts in Part 4 of Revival Starts Here.
While we thought what happened in 2019 was amazing, what happened in 2020 was just as surprising to us.*
Toward the end of 2019, Dave started talking with us at HIM Publications about Awaken 2020. He wanted to use Revival Starts Here again because he anticipated new participants. He wanted to unify churches to pray for revival again. The missing piece, though, was a prayer guide for during the fast. So, together we decided to publish Jesus Next Door: A 30-Day Prayer Guide to Help You Practically Love the People Around You as a companion resource to Revival Starts Here. Then, Dave and his team at Awaken Nashville decided to put both of those books—Revival Starts Here and Jesus Next Door—into a packet, along with an in-house resource they had created, the Love Your Neighbor Journal. This became the Awaken Prayer Packet.
See now how these three resources work together on our prayer resources page here. Awaken Nashville turned into Awaken Tennessee, which turned into small movements around the country. It spread to churches and communities around the country, and many used Revival Starts Here and its companion resources to lead their churches.
How did churches outside of Nashville use these resources? The same way we used them in Nashville!
How Your Church Can Use Our Prayer and Fasting Books
The churches in Nashville, Tennessee, and around the country who used our prayer and fasting books, used them to cover the core aspects of their extended prayer and fasting initiatives. They used them to:
Prepare,
Guide, and
Inspire . . .
Churches toward unified, prayerful action.
Here's how you can use our three prayer and fasting books for a church-wide, even city-wide or state-wide, prayer initiative.
1. Prepare for a fast with Revival Starts Here
Revival Starts Here is subtitled A Short Conversation on Prayer, Fasting, and Revival for Beginners Like Me because it's designed to help entire churches fast together. It accomplishes this by:
Creating the vision for church-wide fasting
Providing a scriptural basis for fasting in general
Painting the whole picture by describing barriers and breakthroughs
Describing the primary kinds of fasts and how to engage in them
Inspiring groups to fast and pray for revival—together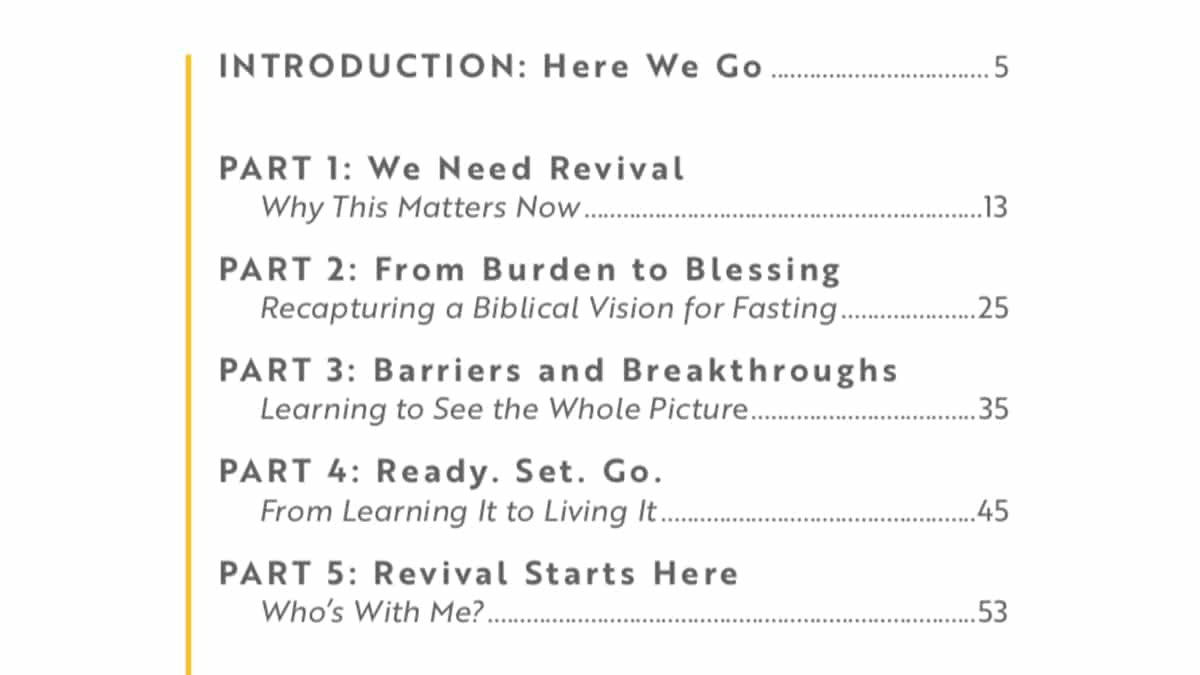 It also contains three appendices that address:
What to do on your day of fasting
How to lead your family through a fast
How to lead your entire church through a season of fasting
Only eighty pages long, many people read Revival Starts Here in a matter of hours. Churches typically give their congregation several weeks (sometimes even a month) to read through this book slowly, often pairing it with discussion groups and a sermon series.
Each of the five chapters ends with two to four discussion questions designed to help individuals and groups reflect about what they just read. It even includes space to journal.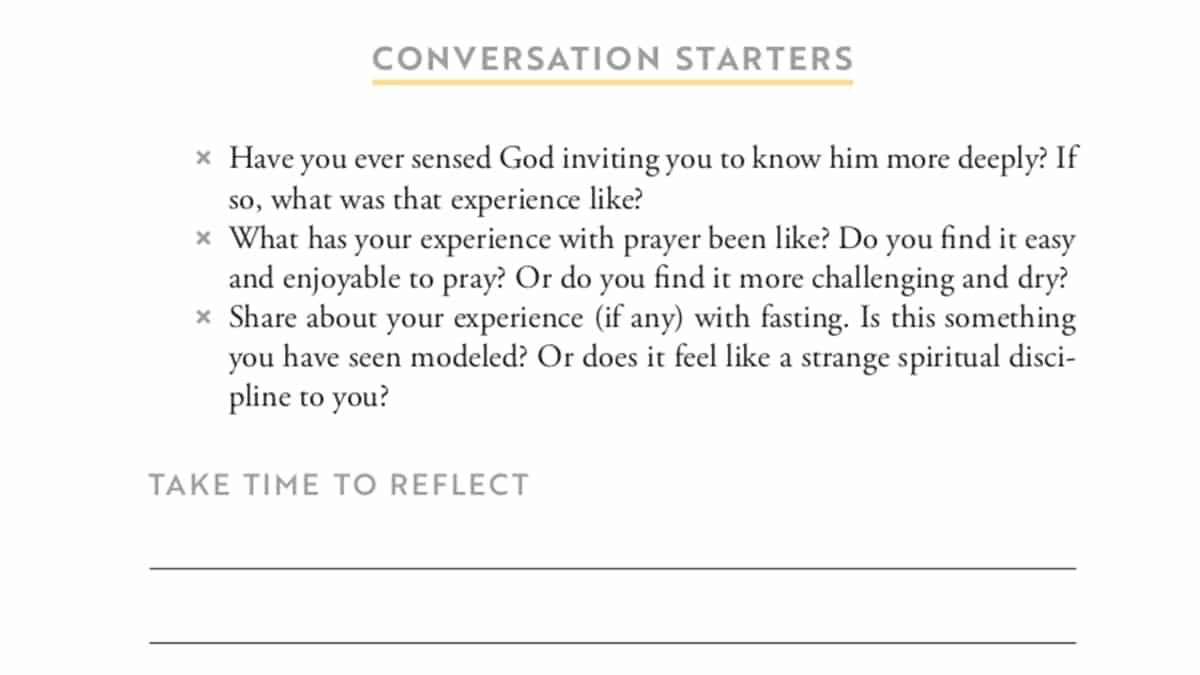 During these weeks, churches will often preach through the content of the book, especially if fasting is new for their church. HIM Publications makes sermon slides and templates available to churches who buy in bulk that they can download and use. Learn more about these and download them for your church here.
Small groups, discipleship groups, and even Sunday morning classes can use Revival Starts Here as their Bible study curriculum. It's filled with scriptural references, examples, and foundations.
You can download the free PDF primer of Revival Starts Here here to see inside and get an engaging summary of the content.
Learn more and purchase Revival Starts Here here.
While Revival Starts Here prepares groups for a season of corporate fasting, what do groups do during the fast? That's where Dave's 2020 book Jesus Next Door enters the picture. During Awaken Nashville 2020, churches in Nashville used this prayer guide to lead them day by day through the month of prayer and fasting.
2. Walk through the fast using the prayer guide Jesus Next Door
Jesus Next Door is a 30-Day Prayer Guide to Help You Practically Love the People Around You, as the subtitle denotes. It's a companion resource designed to pair with Revival Starts Here. Even the covers complement each other!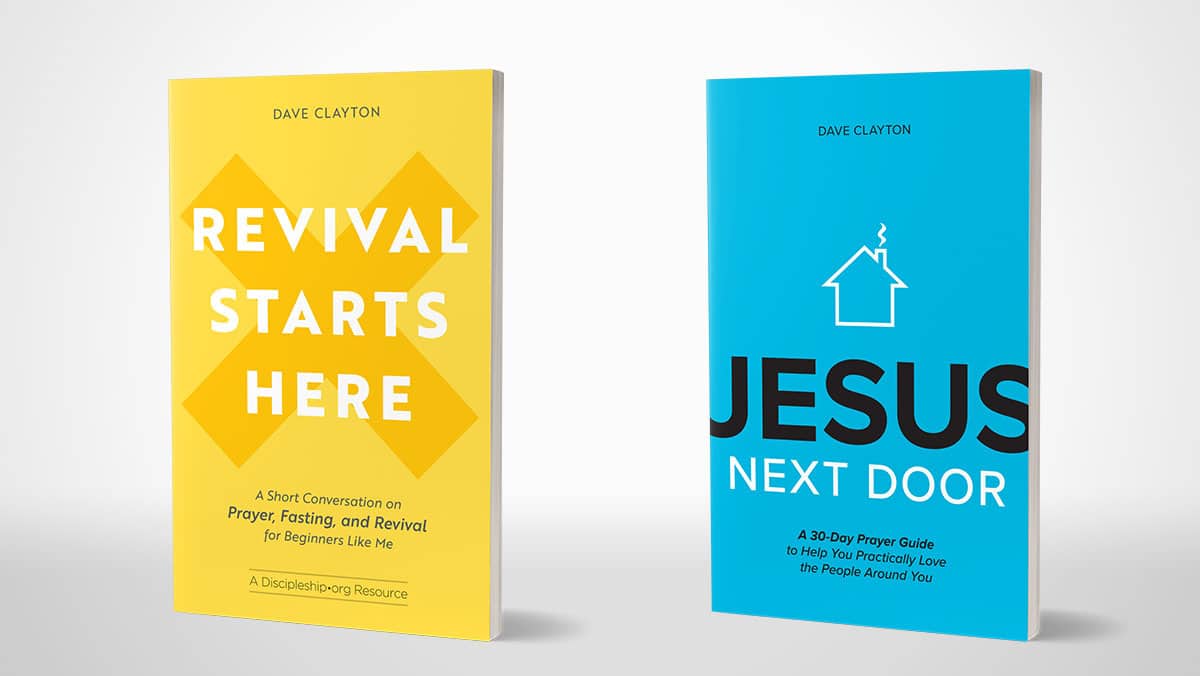 Awaken Nashville used Jesus Next Door for the first time in 2020. When over 700 participating churches engaged with this resource, we saw the movement take on a different tone, and people were impacted in a unique way that we had not seen in 2019. This happened outside of Nashville, too.
One church in particular, The Branch Church, in Farmers Branch, Texas, took their entire church—thousands of members—through this prayer guide. They began this Jesus Next Door church-wide campaign just before the COVID-19 pandemic basically shut our country down. Everything was ready, and they began their prayer journey. Then, they had to cancel Sunday morning services, and they didn't know what would happen to their campaign.
"It was the perfect storm," their lead minister, Chris Seidman told HIM Publications. The pandemic lock down actually spurred their people to love their neighbors in radical ways. The Jesus Next Door resource was the perfect tool for a time such as this.
Starting March 1, 2020, they devoted their church's Facebook Group to this campaign, calling it the Jesus Next Door Discussion group (which has since become their church's primary Facebook Group). Soon, they watched their group's feed fill up with stories of God's faithfulness and love through their people amidst that challenging time. The people prayed, and God loved those around them in real, practical, and sometimes even dramatic ways.
People have experienced hundreds, perhaps even thousands, of stories of love that were connected to this helpful prayer resource.
You can download the free PDF primer of Jesus Next Door here to get a summary of the book.
Learn more and purchase Jesus Next Door here.
3. Take action using the Love Your Neighbor Journal
The third resource in our bundle of prayer books that we've partnered with Awaken Nashville to offer is the Love Your Neighbor Journal. This is a Simple Guide to Help You Love Those Around You, as the subtitle reads. This journal pairs well with Revival Starts Here and Jesus Next Door because it was designed to do so. It's filled with questions that help readers take action.
You can take a look inside this resource here by downloading the PDF primer to Love Your Neighbor Journal.
Learn more about how these three resources work together here.
Stay tuned for more details about these resources.
In the meantime, check out endorsements and reviews of Revival Starts Here below.
Endorsements for Revival Starts Here
The most encouraging sign of revival is younger pastors like Dave Clayton calling us all to pray and fast. In Revival Starts Here, Pastor Clayton shows how prayer and fasting are not only biblical but also doable. And it isn't our own works righteousness; it is God's grace freeing us to refocus on him. So Pastor Clayton asks, "Who's with me?" My answer is, "I am!" How about you too?
— RAY ORTLUND, Former Lead Pastor, Immanuel Church Nashville
---
I've admired Dave Clayton's leadership for years because he leads with tremendous authority and authentic humility. He writes the same way in his book Revival Starts Here. With the authority of someone who practices it, Clayton explains how prayer and fasting can bring spiritual breakthroughs. And with humility he reminds us that revival comes from the move of an all-powerful God! If you want to see heaven break through into your ministry, church, or city—read and apply Revival Starts Here.
— DAVE FERGUSON, Lead Visionary of NewThing; author of Hero Maker
---
Dave Clayton is a dear friend who passionately lives out the conviction of E. M. Bounds, who once said, "We cannot run our spiritual operations on the prayers of the past generation." Revival Starts Here is a not just a collection of ideas but it's also an ancient biblical strategy of prayer and fasting that will lead us all forward to recovering the power of the church. If you have a longing in your heart for more, read this book. But more importantly, do what it says.
— DARREN WHITEHEAD, Pastor, Church of the City; author of Holy Roar with Chris Tomlin
---
This book is crucial for any person or church preparing for an extended fast. I can't imagine doing an extended fast in our culture without it. This is the most concise and helpful guide I've ever seen on the topic. Inside these pages, Dave writes with a great balance of information and inspiration, which reflects the heart of God. Fasting and praying are missing keys for revival breaking through our churches and our cities. Revival Starts Here helps Christians unlock any apprehension and intimidation that may be keeping them from beginning a fast—and experiencing revival.
— KEVIN QUEEN, Lead Pastor, Cross Point Church
Customer Reviews of Revival Starts Here
Great Read and Study Tool
"Great book. Really brings the Bible into perspective. Understanding the structure keeps Bible study from being overwhelming." — Marilyn Evette
Great Book and Very Challenging
"This book has challenged me to a deeper walk with Jesus and an awareness of the call to a deeper walk with God." — Lucia Cherry
Life Changing and for the Serious Followers
"This book is life changing. If you want a deeper relationship with Jesus Christ—I highly recommend. It is so rich!" — Rhonda L. Smart
Excellent Thoughts and Challenges for Fasting
"I highly recommend this book, especially for those who have little or no experience fasting. Dave Clayton makes a powerful case for participating in regular seasons of praying and fasting!" — preacher4Him
Amazing, Insightful, and Practical
"So glad I picked up this book. Don't hesitate to purchase and put into practice. 100% worth it. You'll be glad you found this gem!" — Angela
Equip Your Church
Access the free PDF primer to Revival Starts Here here.
Purchase copies for your church of Revival Starts Here by clicking here.
Learn more about how Revival Starts Here pairs with Jesus Next Door and the Love Your Neighbor Journal here.
---
Subscribe to HIM Publications here to get blogs like these delivered to your inbox.