A Teaching Series Through
The Revolutionary Disciple
by Jim Putman and Chad Harrington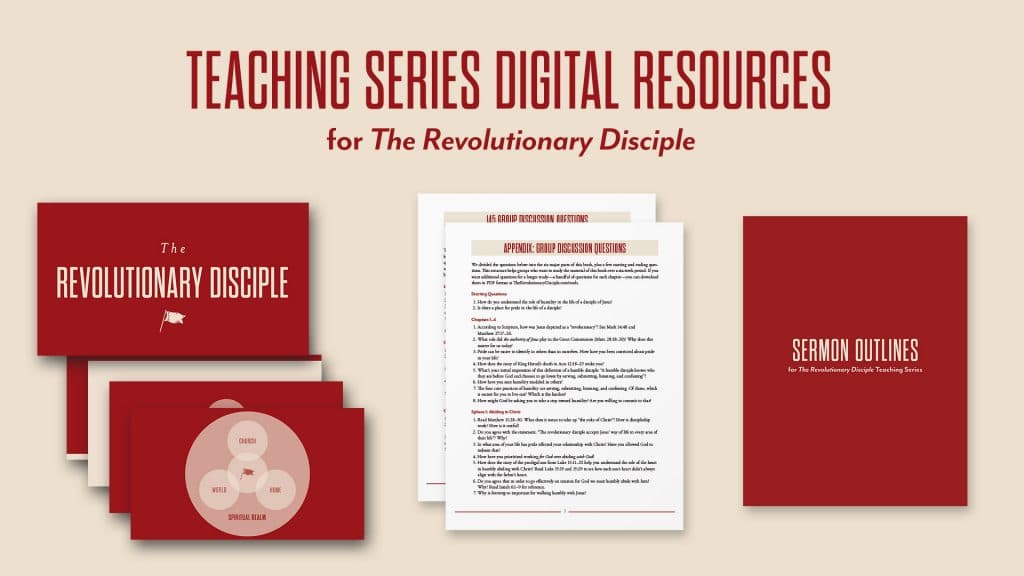 A 6-week Teaching Series Through Ephesians
We designed The Revolutionary Disciple book to be used by leaders for a church-wide teaching series campaign. Thus, we created a suite of resources that churches can license. This suite helps leaders:
Plan a 6-week discipleship sermon series through Ephesians around this book
Order bulk quantities at discounted rates
Download the free sermon series suite for your team
The Free Sermon Series Suite Includes
An outline for a 6-week teaching series through Ephesians based on the outline of the book
63 discussion questions for small groups
Teaching outlines for preaching and teaching
Branded presentation graphics for slideshows
Ready-to-use social media graphics
How to Determine a Fit for Your Group
Step 1: Order a copy of the book here.
Step 2: Read the book (at least through Chapter 4 to get book's main premise).
Step 3: Order copies for your church on bulk discount.
How to Get Bulk-order Discounts
Add The Revolutionary Disciple book to your cart here and update the quantity for your order.
Use coupon code "2021CONFERENCE" at checkout to watch
Watch the following discounts update automatically, and proceed through checkout.
| | |
| --- | --- |
| Quantity | Discount |
| 15+ books | 30% off* |
| 50+ books | 40% off* |
| 150+ books | 50% off* |
| 500+ books | 60% off* |
| 2000+ books | 65% off* |
*Limited-time offer.
You can make this series anywhere from five to twenty-two weeks, but the sweet spot for a church-wide campaign is a six-week series:In six weeks, your church or group can teach or preach through the major sections of this book (as outlined here). Then, plan your series in detail!
Week 1: Introduction
Week 2: Sphere 1: Abiding in Christ
Week 3: Sphere 2: The Church
Week 4: Sphere 3: The Home
Week 5: Sphere 4: The World
Week 6: Sphere 5: The Spiritual Realm
Submit Your Request for the Suite of Resources
Fill out this form below to license the suite of resources from HIM Publications for use with your church or ministry group.
"*" indicates required fields